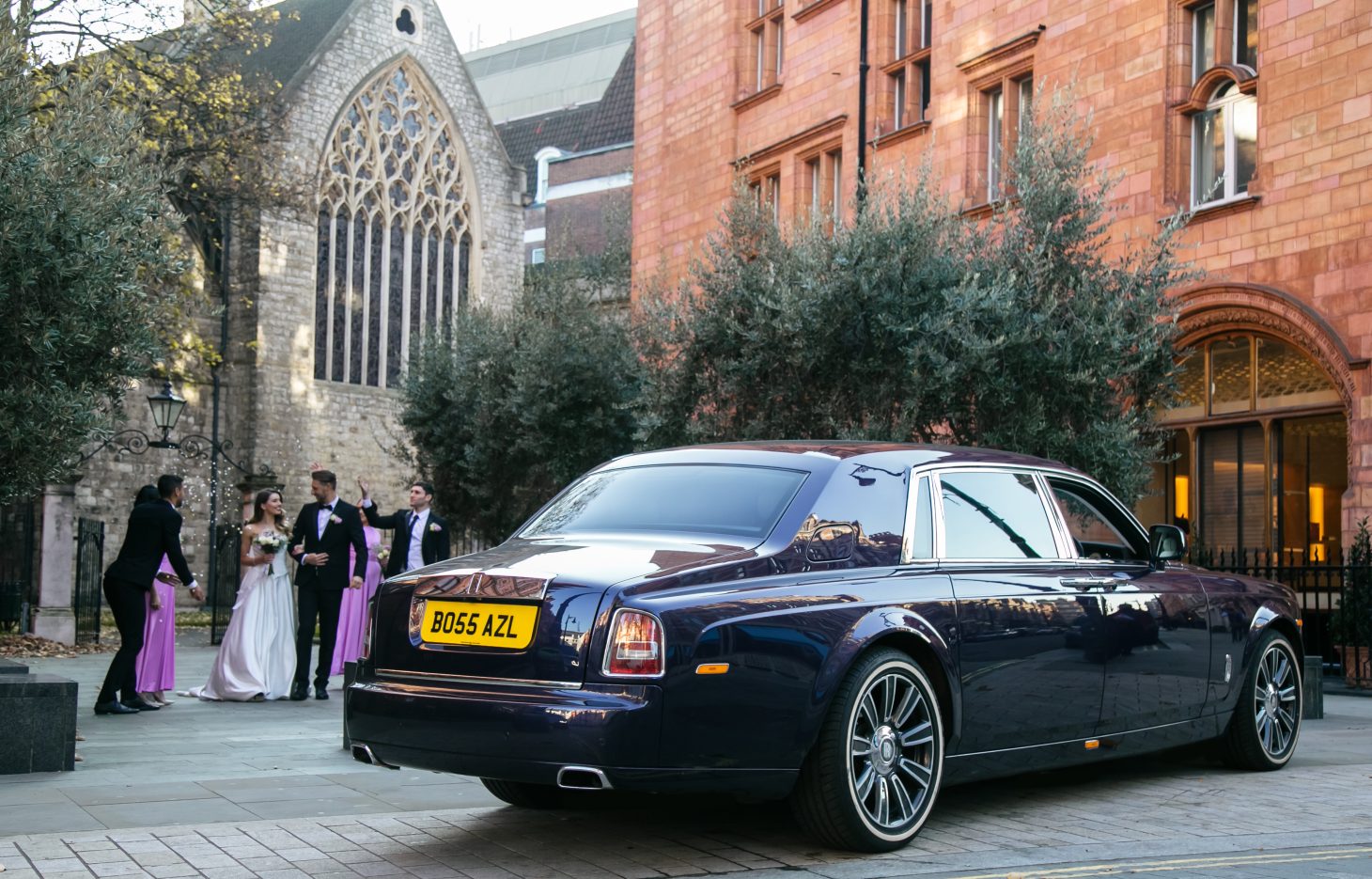 AZ Luxe is a leading provider of wedding car hire in London. With our fleet of beautiful chauffeur driven cars and supercars for hire, there are no other businesses in London who appreciate the importance of your wedding day as passionately as AZ Luxe.
Our Rolls-Royce Phantom is a very popular choice for chauffeur driven wedding car hire in London. As the most luxurious car in our fleet, it will make your wedding day one to remember. With a chauffeur-driven Rolls-Royce, we guarantee that you will arrive at your chosen venue day on-time and in style.
Rolls Royce Wedding Car Hire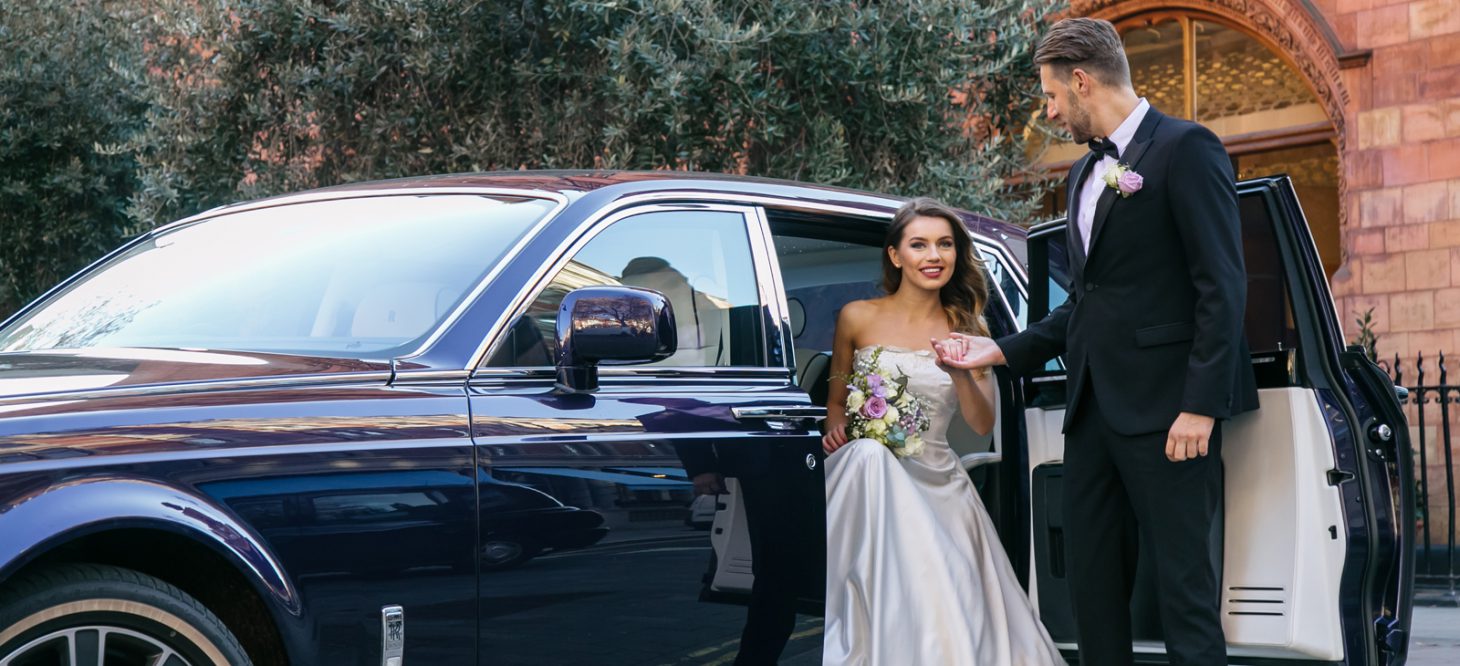 Our Rolls-Royce Phantom II is finished in bespoke Indigo paintwork that is unique to this car, and this car is only available through AZ Luxe. No other chauffeur company in the world can offer something as special as this.
Although subtle at first glance, when in direct sunlight the beaming indigo outshines the more often seen black and white wedding colours and photographs, beautifully behind a white dress.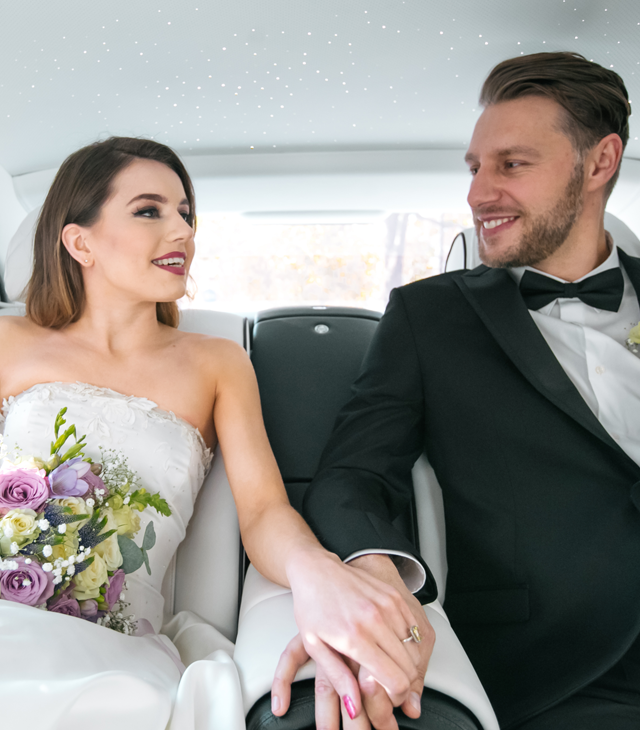 We have chosen a light leather interior, specially commissioned for AZ Luxe, coupled with the most comfortable theatre seats and raising foot rest. In addition, a mini bar and champagne cooler was also commissioned to calm any last-minute nerves.  
Finally, we must mention the starlight roof which mesmerises not only in real life but also looks stunning in photographs, too.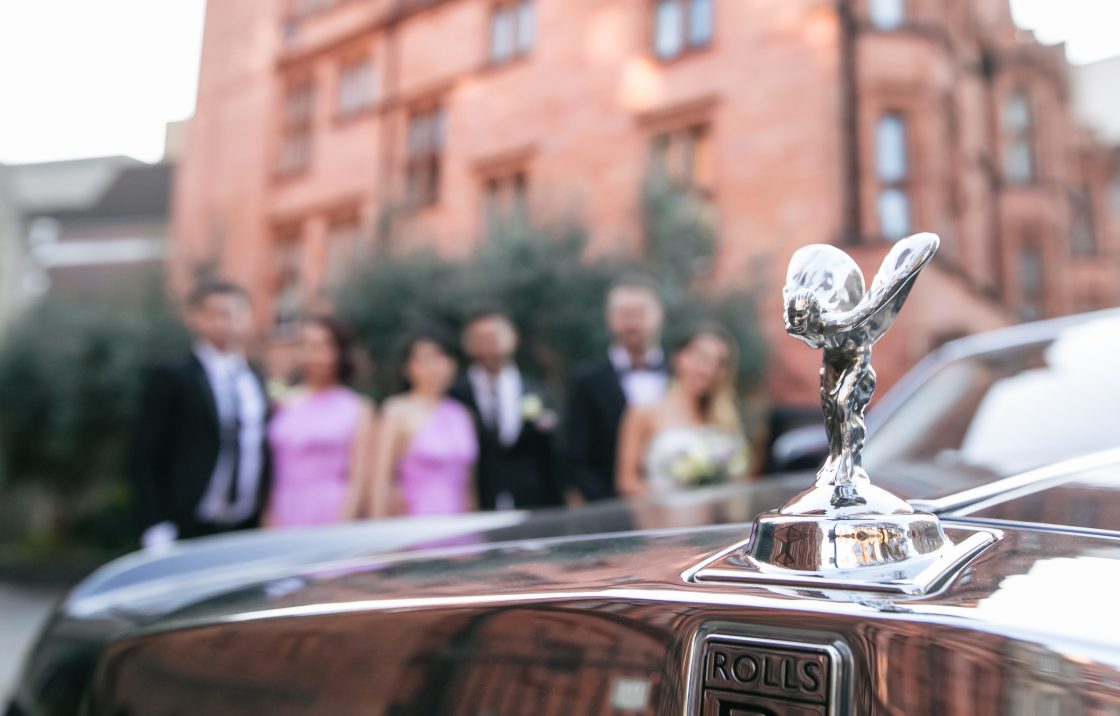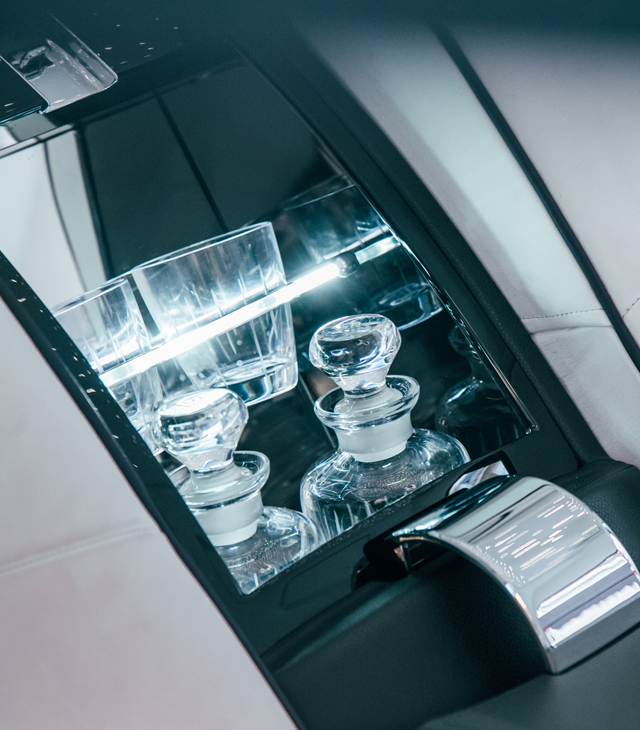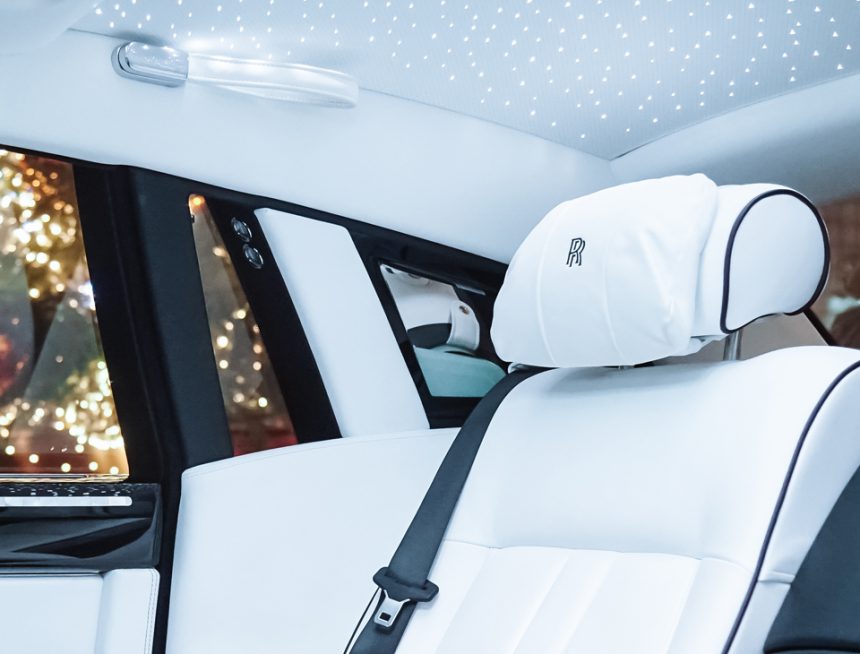 Wedding Car Hire
Our wedding car hire services aren't just limited to the Phantom. Our whole fleet is available for your big day as required. Our Mercedes-Benz S-Class and Mercedes-Benz V-Class provide the perfect additions to get you and your wedding party to and from the venue.
If you fancy something more extravagant for your big day, AZ Luxe has a fleet of four supercars available for wedding hire in London, including our Lamborghini Huracan Spyder.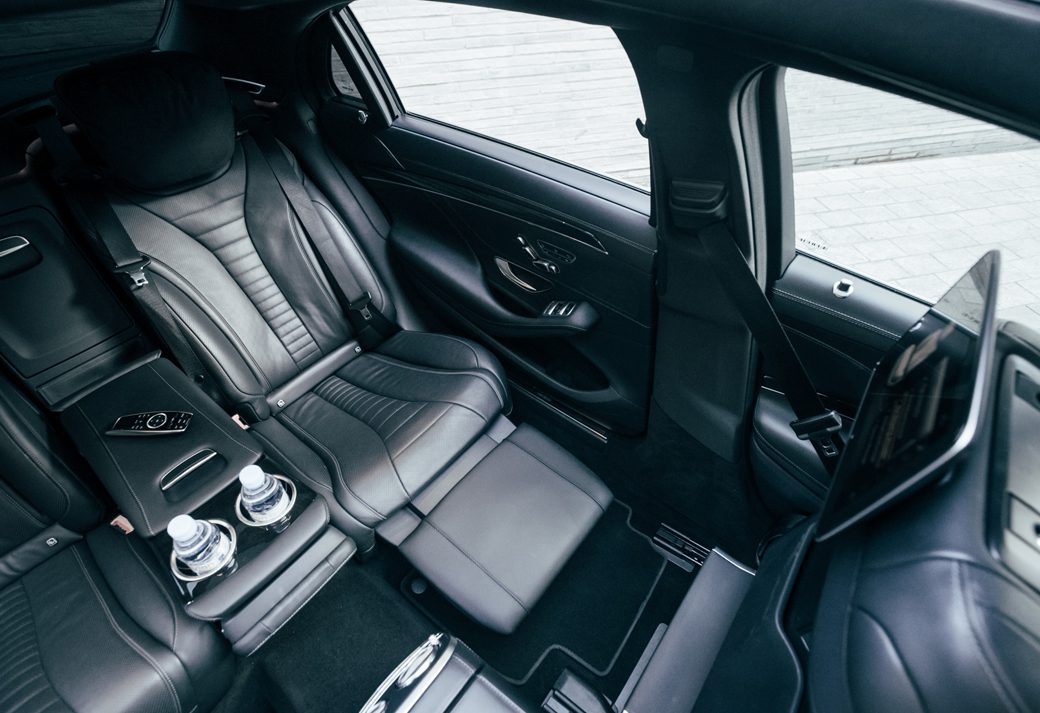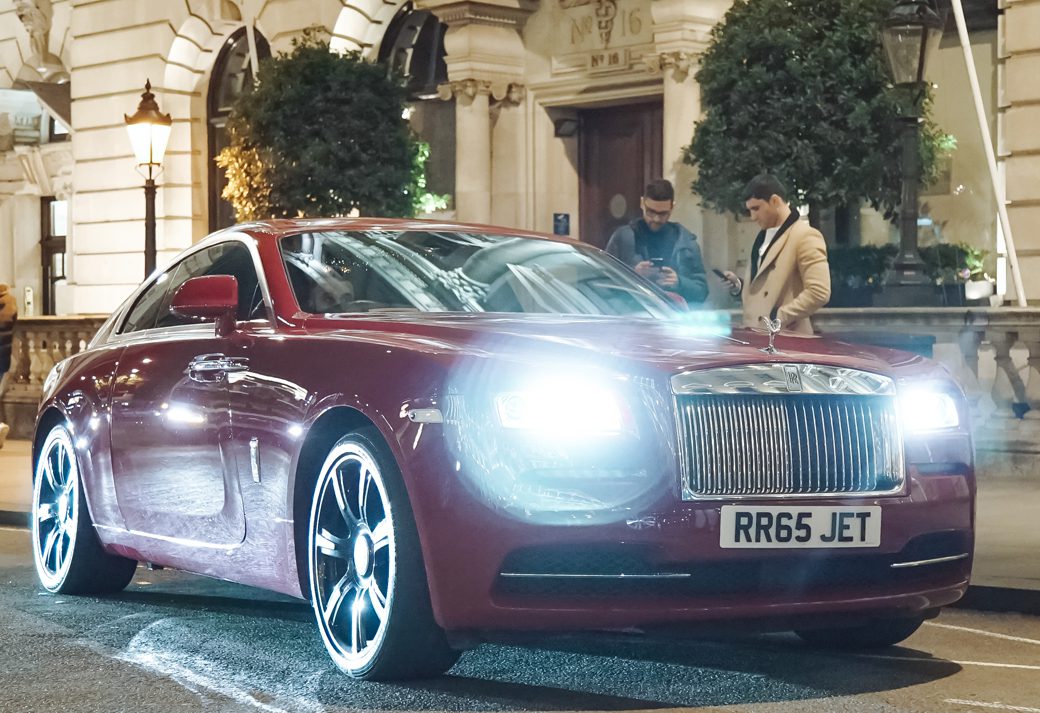 Contact AZ Luxe to find out how we can make your big day extra special. We are committed to making your experience with us beyond your expectations and guarantee to add another level of luxury to your big day.
Frequently Asked Questions - Wedding Car Hire
Can I view the car before I book?
Yes, subject to availability, clients are more than welcome to come to our offices to view/inspect the vehicle. 
Can I book several trips for myself and my wedding guests?
Yes you can. Our booking packages can be tailored to suit your unique requirements and pricing will be based on time and mileage, not on the number of trips taken. 
Can you provide more of the same vehicle?
Yes, our chauffeur fleet includes many vehicles, so you can book as many as you wish!
How many cars will I need for my wedding?
We recommend that you hire 3 cars for your wedding celebration – one for the bride and groom, one for the bridesmaids and the bride's parents/close family and one for the groom's party.
What is included in the price?
We offer a complimentary bottle of champagne for all Rolls Royce bookings which have been hired for a day rate.
Will the chauffeur wear a suit?
Yes, all of our chauffeurs are required to wear a suit.
Do you allow drinking in the car?
Yes, drinking in the car for your special occasion is allowed.
Do you provide child/infant seats?
Yes, we provide car seats for children of all ages at no additional cost.
Do you provide flower arrangements for the car?
We can provide flower arrangements, subject to additional charges. 
What happens if the car is delayed?
We aim to always arrive 15 minutes before the scheduled pick up time. In the unlikely event the vehicle is delayed (mainly due to traffic), the chauffeur will call in advance to let you know.  We will also make the time up at the end of the booking.
What happens if the car breaks down?
Our cars go through regular maintenance checks and servicing, however, should there be any issues, we will advise you as soon as we find out and we will arrange for an alternative vehicle to be sent out.
Do you have wedding hire insurance?
Yes.
What is your cancellation policy?
All bookings cancelled within 5 days of the reservation date will still carry full charges. Fees are non-refundable on bookings cancelled in less than 5 days from the scheduled date, but we do allow changing the dates.