At AZ Luxe we strive to deliver the best level cars to our clientele, so when BMW announced the first all-electric BMW i7 which combines electric performance and multisensory entertainment to produce an unforgettable motoring experience, it was only right that we added these vehicles on our fleet, making them available to you!
Lean back and relax – in our new BMW i7 where everything is tailored precisely to your needs.
The BMW i7 has a luxurious lounge atmosphere in the interior with individual modes. Whether you want to relax, be entertained, or be in a sporty mood, there is a mode for every preference. The available Rear Executive Lounge Seating package adds a reclining passenger-side seat for a business-class experience. The i7 has a massive 31.3" theatre screen in the rear passenger compartment that offers a cinema experience. The front passenger seat moves forward electronically and elegantly to provide a bit more legroom, while a footrest extends to make your cinema-on-wheels experience more akin to a first-class cabin.
Our rates*
Hourly (Min 4 Hours)
£400.00
* Prices Within M25 | Prices Include VAT
The BMW i7 is an all-electric luxury sedan that is part of the eighth-generation 7 Series line-up. It is BMW's first-ever all-electric 7 Series designed with gasoline and electric powertrains in mind. The i7 is packed with some of the most advanced technological features ever fitted to a BMW, including a massive 31″ BMW Theater Screen that offers 5G connectivity and up to 8K resolution.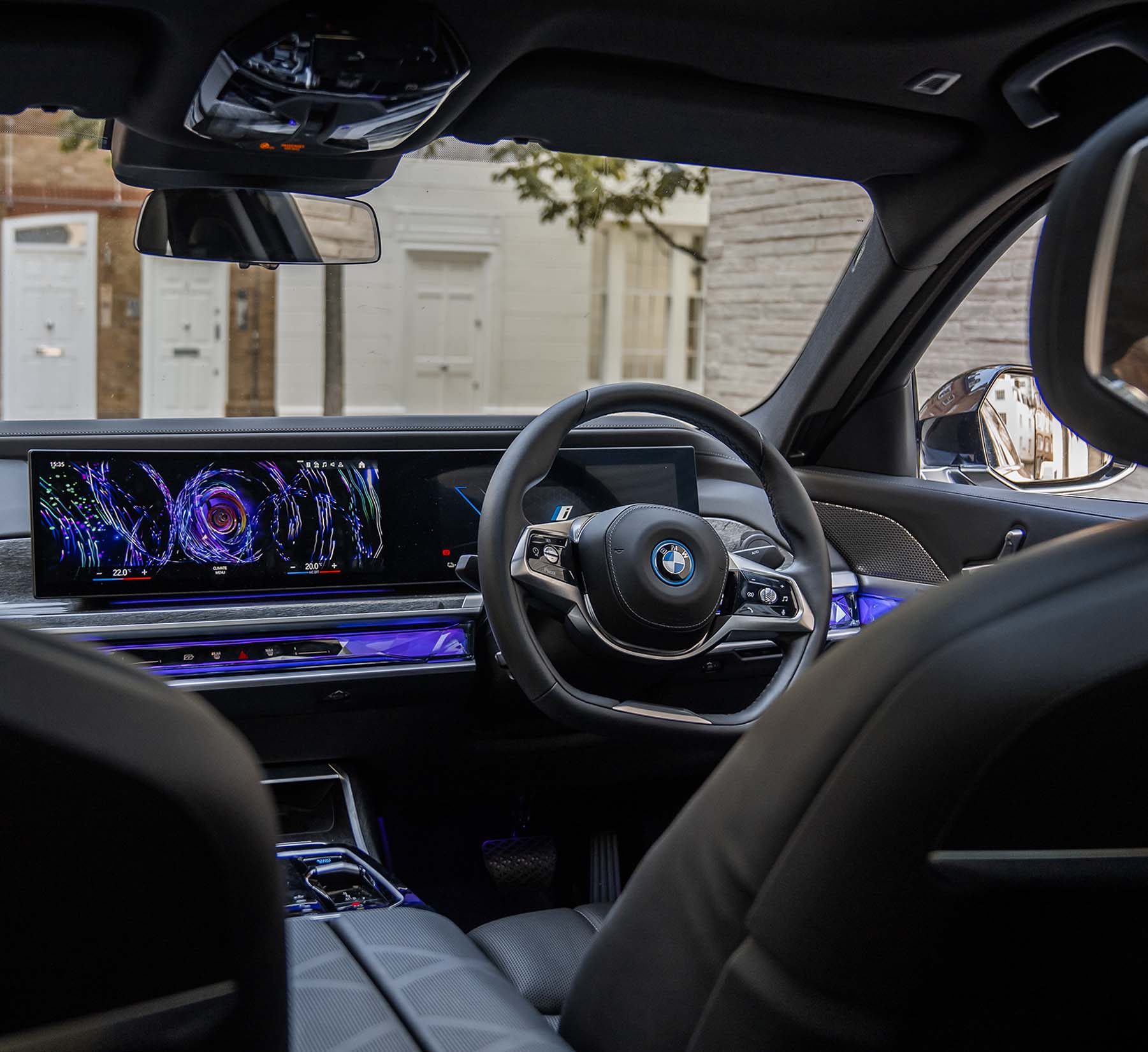 BMW I7 Specification
The BMW i7 has carefully devised technologies that turn every journey into an unforgettable experience, with Executive Lounge Seating. The rear doors have integrated 5.5″ touchscreens that allow you to conveniently operate the infotainment system, automatic air conditioning, seat setting and more.
This vehicle is equipped with a Bowers & Wilkins Diamond Surround Sound System with 39 tweeters and mid-range speakers, subwoofer, and shaker, giving music lovers the best sounds and volumes possible. The rear seat entertainment is on a grand scale with a 31.3″ theatre screen with Amazon Fire TV built-in, creating a unique panoramic rear seating entertainment. Passengers can expect a comfortable ride in the BMW i7 with its spacious interior and high-end features.
Book now for your day out in this luxurious car, made to cater to your every need!