Why Should You Hire A Lamborghini?
Posted by
AZ Luxe
on
17th June 2019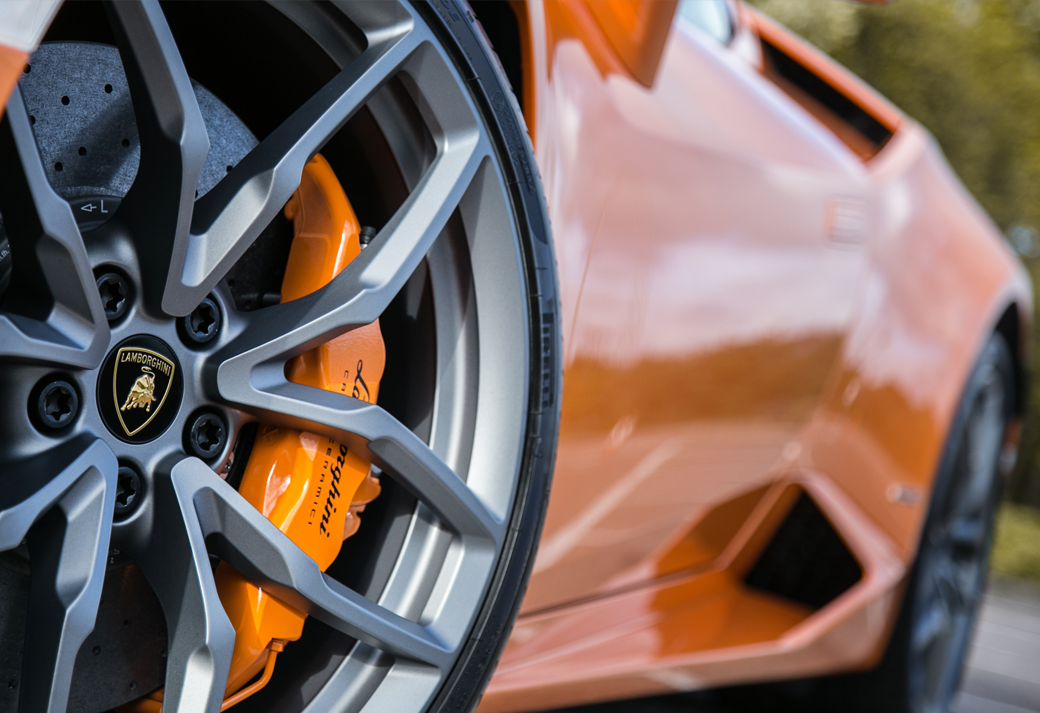 There's nothing better than driving your dream supercar around one of the finest cities in the world, London. This capital hub offers plenty of sights and a nightlife unrivalled by many cities in the UK. What better way to explore this great city with a supercar rental in a luxurious Lamborghini? So, if you're thinking of hiring a supercar in London, let us show you what Lamborghini's you can hire and what you can do with it to make the most of your luxury car hire.
Lamborghini Supercars for Hire
AZ Luxe offers an exotic supercar fleet for all our customers. Our Lamborghini fleet has two of the newest vehicles available with the latest incredible technology.
Lamborghini Huracan Spyder 
Taking in a city in a soft top roof is the perfect scenario for anyone in London. What's better than just a convertible? A Lamborghini Huracan Spyder with a soft top. In just 17 seconds, the roof will open and you can have a great view of everything around you, as you go from landmark to landmark across the city.
In terms of performance, the Spyder can reach 62mph in just 3.4 seconds and has three driving modes to suit the driving you'll be doing. Cruise in comfort and style while you turn heads as you drive across London in the Spyder.
Lamborghini Huracan Performante 
The Ultra-lightweight Lamborghini Huracan Performante is the perfect supercar for a drive in and around the city. With such a light car, you'll be able to glide across the city and turn comfortably in all the small streets you'll find as you navigate London. Not only that, but the modern braking system will help you around those tight corners.
If you're looking for a drive around Central London in a car that all passers-by will take notice of, then the Huracan Performante is the prestige car you need.
Driving a Lamborghini in London
So you know what Lambo you could be driving, but what should you do with yourself and your companion?
Sightseeing 
There is so much to do in London and with your Lamborghini, you can arrive in style to each location. Whether you're planning on taking in the museums or visiting historical landmarks such as the Tower Of London, you can start your day right by arriving in your Lamborghini.  
The Royal Family are a big part of the City of London with various palaces around the city. You can add your feeling of royalty by visiting the likes of Buckingham Palace, Kensington Palace and Hampton Court Palace in your own supercar.
Shopping 
Driving a Lamborghini around London says one thing, you like to spend. Luckily for you, London has some of the best shopping experiences in the world. With places like Oxford Street and Regent Street housing the biggest and best brands, you will get the retail therapy you need.
Perhaps you're looking for something upmarket? Arrive for shopping in your Lamborghini down Bond Street, Mayfair or Savile Row in a car perfect for those locations. If department stores are more your thing, the world famous Harrods will look after your every need.
Sporting Events
London is a huge sporting city with various football teams and sporting stadiums to visit. From Wembley Stadium, Emirates Stadium, Olympic Stadium and Twickenham to name a few, there are plenty of places to go to. So if you're in London to watch football, rugby, athletics or more, you'll be spoilt for choice in this big sporting city. You've most likely got a ticket in a box or a VIP section but with a Lamborghini, you can arrive at the stadium just like the stars you idolise on the pitch.
Nightlife
London's nightlife is one of the best in the world and there is plenty to do to keep you entertained until the early hours. Perhaps you have booked a show at The O2 or one of the incredible theatres along Shaftesbury Avenue, you can make your showtime opulently as you take your seat in a VIP box.
With many bars and restaurants scattered around the city, you can enjoy a pleasant evening with a friend or partner. Arriving in a Lamborghini will ensure that those in attendance will notice you for the time you're there. Perhaps you're treating a special someone to a celebration and want to treat them like a celebrity, our concierge can ensure your time in London can be spent at some of the most exclusive venues in the city.
Lamborghini Rental London 
Hiring a Lamborghini for your trip to London is easy with AZ Luxe. We will ensure the car is ready for you at a location of your choosing. If you're flying into London, we can also have your supercar ready and waiting once you get off the plane for an exotic London airport transfer. Choose your car today and get in touch with us.
Recent Posts
Supercar Season in London
Posted by
AZ Luxe
on
09th May 2019

Best Supercars for Corporate Events
Posted by
AZ Luxe
on
30th May 2019