Valentine's Day Chauffeur
Posted by
Gemma
on
05th February 2020
If you're looking to treat your loved one to an unforgettable Valentine's Day experience, why not ensure they arrive in style when you celebrate this year
Perhaps you'd like one of our dedicated chauffeurs to take you both on a romantic drive through the area in which you first met. Or, you'd simply like to relax knowing that a bit of the pressure is off this Valentine's Day, as your chauffeur is waiting just outside your chosen venue to drive you both home safely and peacefully. You may even decide to coincide Valentine's Day with the most special day of your lives and book our wedding day chauffeur service. 
Whichever reason applies to your thoughtful plans, we have the perfect car hire within our luxury chauffeur fleet to make this an extra special celebration.
Mercedes S Class Chauffeur Service
Complete with rear mirrors to enable you and your partner to have a final glance at your reflection and ensure your appearance is in keeping with the upcoming occasion, the Mercedes S Class truly has been designed with everything in mind.
Offering soft leather reclining seats and lighting that can be adjusted to suit a more romantic mood when required, this luxury car model also provides rear roller blinds that enable the ultimate privacy needed for the celebration that awaits.
Mercedes V Class Car Service
Whether you're planning an intimate Valentine's Day wedding and would like to arrive in style with your closest relatives, or you're organising a weekend couples trip, the Mercedes V Class will provide ample space for up to six individuals. 
The darkened rear windows give you the much-needed privacy for the special occasion. The luxury vehicle's 5-star Euro NCAP safety rating also means that you can rest assured that your flower girls and page boys would also be safe throughout the duration of the journey to your wedding ceremony.
Rolls-Royce Phantom Chauffeur
For a sophisticated car whose design centred around optimum elegance, the Rolls-Royce Phantom is widely considered the ultimate status symbol. It may even be the perfect Valentine's Day gift in itself to remind your loved one of just how important they are to you.
If you and your partner like to embrace the digital age, then this model's state-of-the-art technology will be perfect for you. The extended wheelbase also offers clients an abundance of space in which to enjoy the impressive features that are available to them throughout their journey.
Rolls-Royce Ghost Car Hire With Driver
Featuring a more modern design that caters for couples seeking discretion, the Rolls-Royce Ghost is ideal for a scenic drive through a meaningful location. It offers greater height than most luxury cars, which enables those who choose this luxury car to fully appreciate the spectacular views available during their drive while they relax in conditions of utmost convenience.
Contact us for Quote
Whether you'd like to find out more about a particular luxury vehicle or you're seeking further guidance based on your choice of plans for the romantic occasion, contact us today, so we can discuss the perfect chauffeur service for you.
Recent Posts
Chauffeurs & Supercars – The Most Luxurious Way To Travel Around London
Posted by
Gemma
on
29th June 2018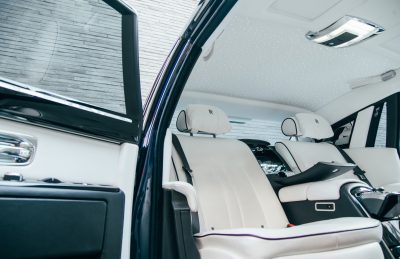 8 Luxury Venues To Hire In London
Posted by
Gemma
on
06th January 2020