Private Jet Charter: Safety First
Posted by
Gemma
on
27th March 2020

Private Jet Charter
At AZ Luxe, we recognise the continued need for our clients to have to travel for business and between their home countries. As coronavirus continues to create uncertainty – safe and reliable travel is paramount. Our dedicated team is on hand to provide a seamless journey, offering private aviation and airport chauffeur services to meet your specific travel requirements. 
Jet Chartering
Our private jet charter service allows clients to obtain ultimate privacy and implement social distancing at a time when it's become a necessity. At AZ Luxe, we charter private jets to and from airports worldwide, providing a personal and efficient means of travel. Travelling by private aircraft allows our clients to apply social distancing throughout every stage of their journey, including when they are in the private jet terminals and whilst on board. 
As we can arrange flights on short notice, you can rest assured that we can accommodate changes to your journey by offering greater flexibility than commercial airlines. 
Suppose the pandemic or another unexpected situation reduces the number of passengers travelling to your destination. In that case, your private jet will not be impacted in the same way as commercial aircraft would. As long as you are able and willing to continue with your private flight, once your charter is confirmed, we will not cancel or postpone your journey or similar circumstances that can prevent commercial flights.  
Our jet charter service will help you to stay safe and secure, so you can travel with peace of mind, knowing our team will arrange seamless travel for you at a competitive price. 
Turboprop Jet Chartering
Ideal for direct flights that are less than 4 hours, turboprop aircraft can provide an alternative mode of travel to public transport, which is still more affordable than larger aircraft. Turboprop jets can comfortably fit 2-3 people or groups of 30-70 passengers, with different seating options available to suit your needs.
Light Jet Chartering
Perfect for flights of no more than 3 hours, light jet aircraft is an economical travel option for up to 8 passengers. The light jets have an average speed of 400 knots, so your journey will get you from A to B fast. 
Midsize Jet Chartering
Our midsize jets provide efficient transportation for direct flights of less than 5 hours, featuring an average cruising speed that matches that of conventional airliners. Equipped to comfortably accommodate the needs of up to 12 passengers, midsize jet aircraft offers a luxurious mode of travel with exquisite adjustable leather seating. 
Heavy Jet Chartering
Heavy jet aircraft is available for direct flights of no more than 12 hours for ultimate exclusivity. Our heavy jet charter service can accommodate up to 45 passengers for aircraft equipped for VIP arrangements or 150 passengers in standard airliner configuration. 
Reliable Chauffeurs
Our private chauffeurs will ensure that your safety and security are their priority from entering our luxury vehicles until you arrive at your destination. Emphasising discreet and safe travel, our reliable chauffeurs offer a personal and professional service which enables our clients to rest assured that a stress-free journey awaits them. 
From ensuring they arrive at least 15 minutes before your agreed pick-up time to monitoring your flight status, our experienced chauffeur drivers will provide a reliable service and ensure your journey runs smoothly. Adhering to a smart dress code, they always carry their ID and will meet and greet every client for airport transfers. So, you know that you will travel safely to and from your destination with our stringent security measures.
Our airport transfer service is also a package option for our private jet charter clients. As soon as you land in our aircraft, our dedicated drivers will escort you home or to your next destination in your chosen luxury car. Our seamless transfers ensure your schedule is adhered to without the unpredictable complications that public transport can evoke. 
If you would like us to arrange a reliable private jet charter or an executive airport transfer, please contact us for more information or book today.
Recent Posts
What Business Travellers Need to know During Coronavirus Pandemic
Posted by
Gemma
on
18th March 2020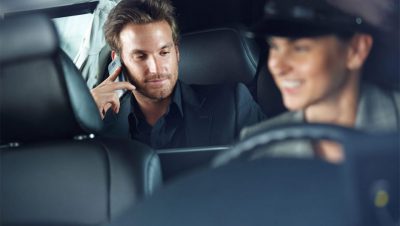 Benefits of Private Jet Hire
Posted by
Gemma
on
03rd February 2019